Hime-chan's Ribbon: Episodes 41–50
June 24, 2019 — OUT: Hime-chan's Ribbon 41
Little Lovers
Little Lovers is a slice-of-life episode. One of its main topics is a realistic problem for little children, but is rarely depicted in anime shows, perhaps because it's not very exciting nor fantastic (and so not marketable). When the seiyū for Yumeko voices Fake Yumeko (who is actually Himeko), the way she speaks is subtly different (Himeko-ish) — nicely nuanced! Also interestingly, Shinataro and Ichiko ("Icchan") are voiced by the same person.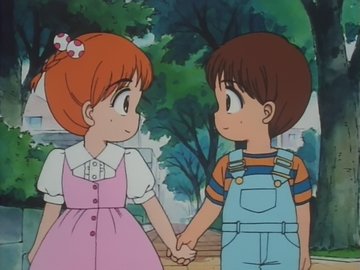 Yumeko & Shintaro (Click to enlarge)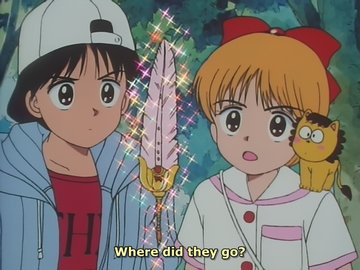 (Click to enlarge)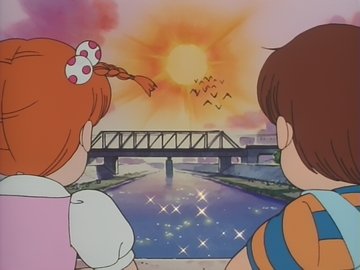 The Tama River? (Click to enlarge)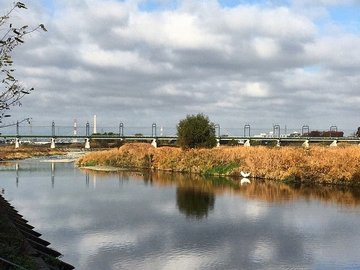 A view from the same location in the real world,
assuming that the two kids are on the Sekido Bridge.
For a detailed explanation with more pictures and a map, please see "The Tama River in Hime-chan's Ribbon Ep. 41."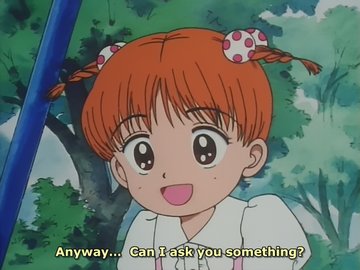 Fake Yumeko (Click to enlarge)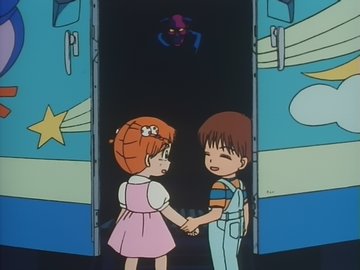 The so-called "Come to my van, children" scene (NO IT ISN'T)
First Aired on

July 16, 1993 (Friday), 18:00–18:30 JST (09:00–09:30 UTC)

Ep. Title

Little Lovers

Original Ep. Title

小さな恋人たち

Original Ep. Title in Romaji (Unicode)

Chiisana Koibito-tachi

Original Ep. Title in Romaji (ASCII)

Chiisana Koibito-tachi

Script (Screenplay)

Yanagawa Shigeru

Storyboard

Akane Kazuki

Episode Director (Animation Director; Enshutsu)

Akane Kazuki

Animation Supervisor (Animation Director; Sakuga Kantoku)

Konishi Yōko

Fansub Released by #honobono on

June 24, 2019 (18:54 UTC)
File
Name

Hime-chan's Ribbon (DVD x264) - 41 [h-b] (190618E6).mp4

Video

AVC (x264) [0.157.2935 545de2f]; Main@L3.1, 994 kbps

Audio

AAC (Apple) [qaac 2.68, CoreAudioToolbox 7.10.9.0]; LC, 92.4 kbps

Size

201,326,592 Bytes (192.000 MiB)

CRC32

190618E6

MD5

87BD3CCD939339C7F2F26D1C6EB3B51F

RIPEMD-160

F45E5FCA7B5F8D88230968C5254C0EB5B0560EEC

SHA-1

97B5CCE2ADF0E94D7556DACD943B2004DD2FE690

SHA-256

A5C104181B5A51129B39C1EEEDC8D2C5B5F8E0358751F76B94A124DA302547DE
Version History
a3r 0.1.8.1
2017-08-13 HCR41 Edited
2017-09-02 HCR41 Timed
2017-09-06 HCR41 Typeset RC1
2017-09-08 HCR41 Encoded RC1
2017-12-26 HCR41 Typeset RC2
2018-01-21 HCR41 Encoded RC2
2018-07-06 HCR41 Typeset RC3

(hiatus)

a3r 0.1.8.4-pre
2019-05-25 HCR41 Typeset RC3v2
2019-05-25 HCR41 Encoded RC3
2019-05-31 HCR41 Typeset RC4
2019-06-04 HCR41 Encoded RC4
2019-06-11 HCR41 Typeset RC5
2019-06-11 HCR41 Encoded RC5
2019-06-16 HCR41 Typeset RC6
2019-06-18 HCR41 Encoded RC6
2019-06-24 HCR41 Released

Memos
Starting from this episode, Liisachan (the backup encoder of HCR, who also did Eps 13 and 16) encodes HCR, because the main encoder of HCR (ParadoxHeart) could not continue encoding. The title logo sequence had been created (encoded) separately by ParadoxHeart, which we will keep using.
May 23, 2019: After a 2-year hiatus [HCR40 was released on 2017-05-10], we're now restarting Hime-chan's Ribbon Episode 41. We may be able to release 41 within like two weeks, as it is already in the RC3 (=near-final) stage, script-wise. The hiatus was not due to laziness; life is not always peaceful. Our chief encoder of HCR, who also did that amazing OP logo work, needed a rest. She, however, did not just go MIA; she gracefully has made the necessary arrangement so that we can continue this project. We'd like to continue HCR (we even have a QCer whose nick is Pokota). We can't promise anything, but we'll try!
May 25, 2019: HCR41 RC3 was actually encoded, though this may not be the final version.
May 27, 2019: Maybe we can release this episode in early June.

June 4, 2019: HCR41 RC4 was (test-)encoded, with a few translation improvements.
June 9, 2019: HCR41 is almost ready to release, except a minor encoding problem was found. We're re-encoding to fix it.
June 11, 2019: Fixed (RC5). Should be released within a few days.
June 16, 2019: We're going to re-encode this one last time to make a few minor changes.
June 20, 2019: We will release Hime-chan's Ribbon 41 today or tomorrow.
June 23, 2019: Hime-chan's Ribbon 41 will be released shortly. The file itself is 100% ready and the torrent was already made on June 18, but it is being temporarily on hold for certain reasons.
June 24, 2019 (18:54 UTC): We have released Hime-chan's Ribbon 41. The bridge depicted in this episode may be based on a real place (see a separate page for more info).
[ Hime-chan Index ]
---
---
If you have any questions, comments,
or if you're interested in joining us fansubbing together,
feel free to email us at the following address. Thank you!


Also, you can leave comments on [AniDB], [Nyaa], or [BakaBT]
though we may not notice them immediately.